Discover more from Ear Mountain
an endless riband of foolscap
Dear Emelio,
I started a version of this letter many weeks ago, and then abandoned it—I just now tore it out of the notebook I use to draft these epistles, where it sat languishing, waiting for me to type it up. Ear Mountain has been on hold and this letter feels very overdue! I may cannibalize some bits of the old one, but for the most part I'm taking the bold (or maybe just resigned) approach and starting over, partially because I was feeling uncertain about the earlier draft as I wrote it. Some of that uncertainty remains—I can't decide if I want to focus on teaching or environmental writing! But I also think I may not be entirely the same "I" I was a month ago… so here is a new beginning. And I'm deciding! I'm going to write about nature writing! Here goes:
One thing I've been observing in Seattle, which I guess I noticed during some earlier stints in the PNW, too, is that there's a kind of enthusiasm tinged with anxiety that overtakes people in the summer here. Everyone knows the presence of sun and warmth might be brief, and they're hellbent on enjoying it—but they're also fretful about whether they are maximizing the time we've got before it rains again (if it ever actually gets rainy in Seattle!). One example of this attitude, sent by my cousin Matt, who lives in Wallingford, in response to a question I asked via text about best places for one-day hikes: "Oh also it's a common seattle mistake (I make this mistake almost every year) not to make the most of the summer. Skip work as much as possible. Hike and camp your booty off. The summer is magical and over in a sneeze. [sneeze emoji]"
This is basically how I feel about most things most of the time—worried that I'm missing out or making the wrong choices with regard to what I'm doing—so it's not necessarily the most healthy ambient message from my new milieu. But on the other hand, it does serve as a pretty powerful external motivator for me to overcome my (also powerful) inertia and go do stuff outside! I probably need the nudge. And as Andrew and I try to plan some little trips around the maelstrom of our move, I've been remembering my pledge with you to try to exchange some nature writing. Do you remember the circumstances of this pledge? Here they are in my memory:
You and I are walking a narrow trail right outside of Mount Rainier National Park, the weekend of Anneka's surprise party. Although we'd met very briefly before—on the other side of the country, at a brewery south of Burlington where Anneka and I stopped to say hi to you and Becca on Anneka's way to the airport—you and I had only really met two days beforehand, when you guys picked me up at Elliott Bay bookstore to go surprise Anneka. But, if I may say so, by the time we walk along the Sheep Lake trail, we're already on our way to being good buddies, I think. We're talking about writers we both like—Annie Dillard is the one I remember—and about how both of us would like to try some writing about the natural world, though we're scared to start. Maybe we should do a trade, one of us says. And the other one says, yeah! And we talk about our ideas and the snags we're already worrying about. It was a good setting for a nature-writing vow, with all those peaks appearing dramatically out of clouds and snow already packed down on the path.
I went back to Montana—I was still living in Choteau then—excited about this prospect, both because it sounded great to exchange work with you and because despite wishing it were otherwise, I often need the motivating/pressuring force of someone else and a deadline to write much of anything at all. And, too, I was excited about trying a form I haven't really worked in, but which I'm constantly admiring. So many of the writers I've been drawn to—ever since I discovered and fell in love with Edward Abbey in high school, a now-complicated but still present love!—are engaged, either directly or just by virtue of the scope of their noticing, with the non-human. And that kind of noticing is something I feel as an impulse in myself, or at least a hovering presence, whenever I write prose. So I was excited about trying it for real, making a proper go of it!
And I did take some notes to that effect in Montana. I wrote down things about being there that I wanted to include: the way in which the absence of human-generated noise asserted itself at first not as silence but as an aggressive ringing in my ears; the strange pleasant vertigo of walking along a gravel road in a landscape so huge and so sparsely landmarked that you hardly seemed to move at all; the persistence of blue and gold everywhere, in the sky and the light and the imposing outline of the Rockies to the west. But Emelio—nature writing seems so hard! I kept finding that I was afraid to actually begin, and I still am; I haven't written anything out of those notes, or even tried.
I'm pretty sure my fear is just a more specific version of a generalized fear I have about writing nonfiction (and maybe, even more broadly, about writing anything at all)—namely, that I have nothing interesting or new to say. Do I have any especially insightful perspective on nature? I certainly have my own individual thoughts and perceptions—my own eyes and my own "I"—but I worry/suspect that, beyond that, there has to be something else in the work, or else it's just descriptions of beautiful things. But I'm not sure what I want to do "with" or "around" those descriptions!
That might not be entirely true, though. (I'm revising my ideas as I go along.) I think I do sort of know what I'd like to get at beyond description—what I'd want to investigate about my time in Montana, for instance. The overlap between my love of spending time outside and my love of reading is, I think, the ability of both experiences to make you say some version of "Wow!" But it's a "wow!" that's a bit more complicated than just that—an awe that acknowledges its own contingency and fragility but that also asserts itself as a vital feeling. This is what the writers whose work on the natural world I most admire—Dillard, Thoreau, J.A. Baker (who wrote an amazing, wild book about watching peregrine falcons), Ed Abbey, and more—elicit in me. Remember my rigor vs. pleasure/reverence vs. irreverence matrix, shared on our Whidbey Island adventure this spring? I think all these writers, though often fierce and unsparing, are far over on the reverent side of things.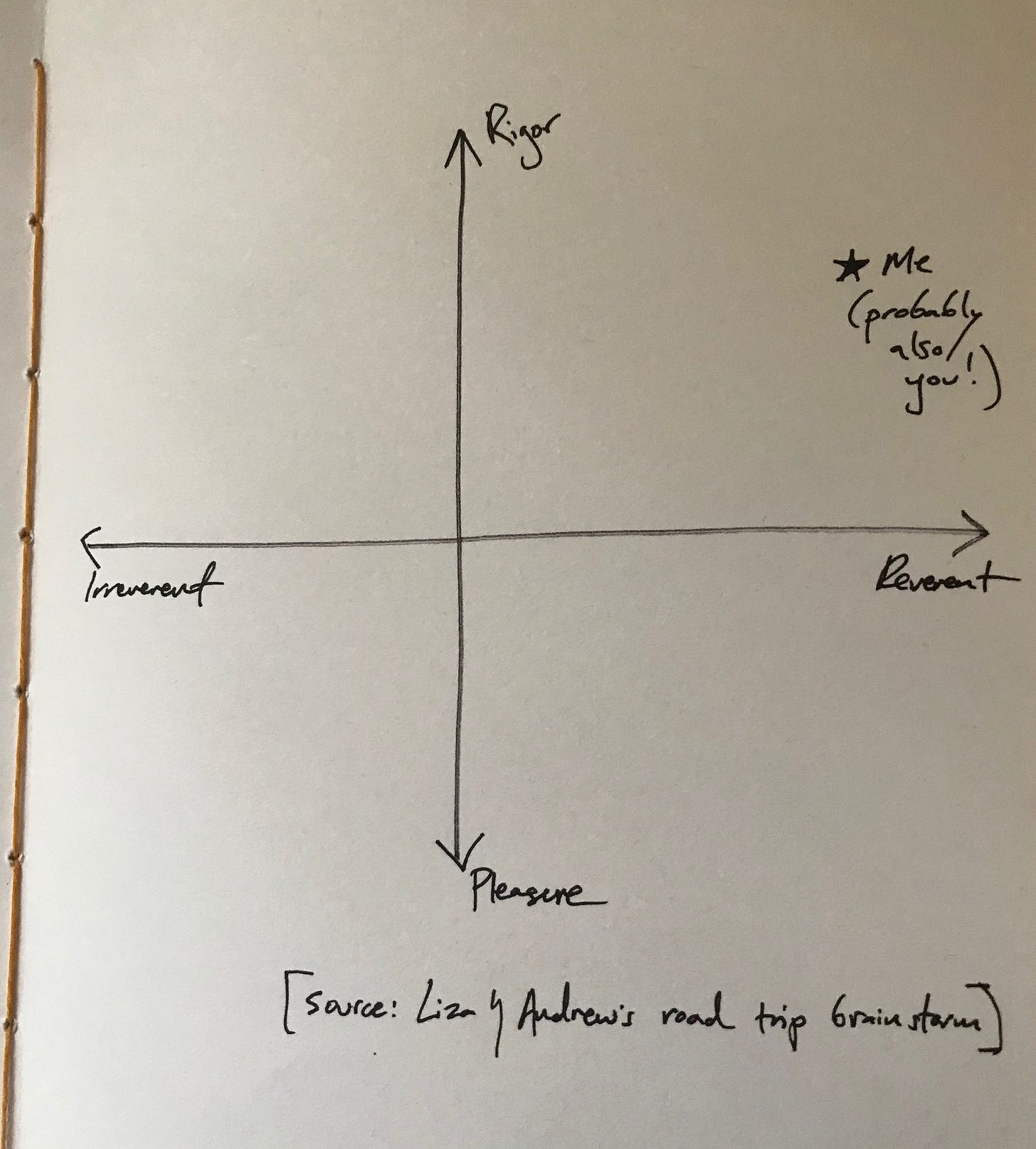 But sometimes I feel that my own reverence, which comes easily to me, is actually what Andrew and I call a "blocker," writingwise. (The term's taken from the recent movie of the same title, which we did not see but whose trailer appalled us, about parents trying to stop their teens from having sex on prom night. It's become a pretty good multipurpose descriptor for us!) Why? Because so much of that awe has already been stated, by the writers I mentioned above and by myriad others; because I worry, despite not wanting to, that there is something deeply unfashionable about unskeptical regard articulated in the public sphere; because the state of the world, especially w/r/t our impact on the nonhuman, clearly requires a more complicated perspective. Because I feel somewhat constitutionally incapable of being a skeptic, and because I feel insufficiently educated, always, on the details of the places in which I find myself. I felt these doubts in Montana, and I feel them now, and what they urge me to do is give up before I even start.
So, for courage, even courage that doesn't ever spin out into action, I go where I always go: back to being a reader. A month or two ago I spent a lot of time reading passages from Thoreau's Journal while drinking my morning coffee. Have you ever spent any time with that? I first encountered it in a class I took as a grad student with Geoff Sanborn, the professor/Melville scholar whose book I recommended to you—and since then (2015?), I've dipped in and out of it a lot. It's an enormous project—two million words—and even the book I have, a bright yellow NYRB copy, is a significantly abridged representation, all the passages picked out by Damion Searls, who edited it. Here's how Searls describes the evolution of the Journal for Thoreau:
Thoreau's journal started out as a notebook among others, for quotations, mini-essays, and poetry. He often tore out pages to use as drafts for his books, lectures, and essays, and for other reasons, so the first dozen years of the journal… survive only in fragments, sometimes secondhand… He spent the 1840s honing his craft as a writer and published his first book, A Week on the Concord and Merrimack Rivers, in 1849, but the book was a commercial disaster, plunging him into debt… As a result, he redirected his ideas of authorship, of writerly vocation, and of the meaning of publication. Around 1850, he began to keep journal entries regularly and date them consistently; instead of tearing out pages, he preserved the volumes intact, making marginal list marks and copying the passages he wanted into other notebooks, drawing vertical lines through copied text. No longer a grab bag, the journal became the Journal: an investigation of dailyness, seasons, and the relationship between self and nature—a hybrid and incompletable book but a book in its own right nonetheless, with an ecology all its own.
There's obviously a lot to unpack in this! But what strikes me most about Thoreau's project as described by Searls is that it represents a shift from what is purely outward-facing in writing—a hope for readership and acknowledgement by human contemporaries—towards a different reason for recording observation, a reason that hovers interestingly between "writing for oneself" and "writing for others." As a teacher of writing yourself, you know that writing is frequently thought of as more or less a one-way street—how often have I said to students that "the writing process" (as if it were always the same) begins with writing to clarify one's own thoughts (writing for self) and moves towards writing to communicate and connect with others? But Thoreau used his Journal to move in a different direction, in a sense, which also meant moving away from writing as teleological—away from creative work as represented by a finished end (hence Searls's great description of the Journal as "hybrid and incompletable"!). This all reminds me of the Wallace Stevens poem I included in my last long-ago Ear Mountain to Pam, in which Ariel, the subject of the poem, is "glad" that he has written his poems, no matter what comes of them—like both the content and form of the Journal, the poems are as much "makings of the sun" as a product of the writer, more growing and reflective than static and complete.
So what does all this have to do with our nature writing vow, and my anxieties re: all that? Well, first of all, as you might imagine, because it's Thoreau, a good deal of what gets written down in his Journal has to do with the nonhuman world. (In fact, there are actually scientists who have used the Journal and Thoreau's phenological charts to track climate change, comparing Concord in Thoreau's time to Concord now and seeing what plants flowered when, what species were present, etc.!) And, also because it's Thoreau, the writing is just great!—so beautiful, and really fun to read, despite (or because of?) its lack of traditional structure or arc. A few more-or-less randomly selected favorites:
To myriad eyes suitably placed, the whole surface of the pond would be seen to shimmer, or rather it would be seen, as the waves turned up their mirrors, to be covered with those bright flame-like reflections of the moon's disk, like a myriad candles everywhere issuing from the waves, i.e. if there were as many eyes as angles presented by the waves, the whole surface would appear as bright as the moon; and these reflections are dispersed in all directions into the atmosphere, flooding it with light.
Now, at 4 p.m., I hear the peewee in the woods, and the cuckoo reminds me of some silence among the birds I had not noticed. The vireo (red-eyed?) sings like a robin at even, incessantly,—for I have now turned into Conant's woods. The oven-bird helps fill some pauses. The poison sumach shows its green berries, now unconscious of guilt. The heart-leaved loosestrife (Lysimachia ciliata) is seen in low open woods. The breeze displays the white under sides of the oak leaves and gives a fresh and flowing look to the woods. The river is a dark blue winding stripe amid the green of the meadow. What is the color of the world? Green mixed with yellowish and reddish for hills and ripe grass, and darker green for trees and forests; blue spotted with dark and white for sky and clouds, and dark blue for water.
The bluebird carries the sky on his back.
What I love about these passages, besides the fact that they're just extremely well-written and thrilling to read, is that in their content, as well as in the context of the Journal as a whole, they set down something that's of interest simply for being itself. What I mean by that is just that it feels like Thoreau is interested in all these phenomena just because they are. They're in the world and so is he and he is crossing paths with them, and he's changed by those encounters! There's this other passage that I love that I think almost explains the methodology of the Journal, and also captures an essential tension in what Thoreau is doing—he's both trying to understand the world around him and, as he observes it, is constantly more aware of what's unknowable in and about it:
Why should just these sights and sounds accompany our life? Why should I hear the chattering of blackbirds, why smell the skunk each year? I would fain explore the mysterious relation between myself and these things. I would at least know what these things unavoidably are, make a chart of our life, know how its shores trend, that butterflies reappear and when, know why just this circle of creatures completes the world.
The question that opens that quote—"Why should just these sights and sounds accompany our life?"—is one of those lines that gets stuck in my head and rattles around occasionally. It came back to me the other day as I walked Hans through northeast Capitol Hill and Madrona and looked at all the enormous beautiful houses with a mixture of longing and disgust. (Who lives in each of those houses? To paraphrase our shared fave Infinite Jest, what's their story?) It's funny for Thoreau's words, exemplified in the original by butterflies and blackbirds, to arise as I look at fancy townhouses and fountains in people's yards, but I think Thoreau's wondering bafflement, that sense of wanting to understand, and getting something from trying to understand, but also knowing that you can't, at least not completely, pin things down—that's the kind of attention and attitude I want to have, and it's also what I think the best nature writing inspires me to feel, whether I stand up from reading it and look at mountains or glance out the window at the housing developments on the horizon to the north.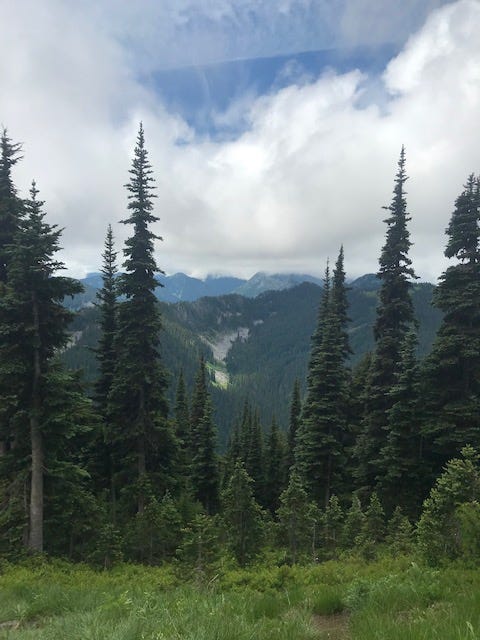 This inquisitive response is a kind of ongoingness also—and it doesn't escape my notice that Thoreau describes the world as a set of relations, not an assemblage of things: "just this circle of creatures." I just read this book called How to Do Nothing, by a writer and artist named Jenny Odell—it's the one I sent you and Becca and Carson and Mackenzie an excerpt of via text because it quoted Ursula K. LeGuin. One of the things that Odell talks a lot about is the way in which becoming aware of what Thoreau calls "the mysterious relation between myself and these things"—aka everything that's "not me"—can be a way of resisting some of what late capitalism (and what Odell calls "the attention economy," in which companies are monetizing not what we buy but what we give our time to, i.e. social media). She's very interested in the ways in which both engaging with art and engaging with the nonhuman world necessarily involve situating ourselves in a specific context, and she argues that this contextualization leads to care—to wanting to care for what is not yourself because its being is to some extent inextricable from your own—and also to relationships and activities that operate outside of capitalism and its relentless teleological bent. She's very into bioregionalism, too, which, thinking about it now, leads me back to how Searls describes Thoreau's Journal as having "an ecology all its own. Ecologies are so powerful, both "in real life" and as a metaphor! Thinking about her idea of ecology as determined by attention as well as proximity has inspired me to dedicate some more time this year to really trying to learn about the history of Seattle, human and nonhuman. (I actually had a lot of questions about Odell's book, mostly in terms of its writing style, but I did take some significant things away from it, I'm realizing!)
I have gone on a while here, and where have I ended up? I think I'm trying to get at, in keeping with the current of ideas in here, not an end (because everything is ongoing!) but a starting point. What would it mean to write about the nonhuman world in the ways that Thoreau and Odell point toward? One beginning: maybe a focus on relations is a way of being reverent while also being sharp and self-critical. I don't know exactly what this would look like in my own writing, in terms of my notes on Montana or anything else, but I'd like to think about it and I'd like to try.
And would you, still? As I finally finish this draft you are camping with Becca and Annie and Rae and baby Ocean. And you're days away from the Wonderland trail! ("Everyone is always going camping or backpacking here!" I exclaimed to Andrew the other day. To bring the FOMO with which I began full circle: I want to get in on that constant adventuring!) Will any of these rambles (or, dare I say, your helicopter saga?) spark a nature-adjacent writing project, soon or later? Can we still exchange, please?
I hope so! And I can't wait to: a) hear more about your outdoor sojourns; b) just hang out some more; and c) perhaps do some teacher debriefing with you soon (I'm ordering a Peter Elbow book today for my class in the fall!). In the meantime I am glad as always to be in conversation with you, even in this weird Ear Mountain form. Let's keep talking—maybe even about nature IN NATURE.
your pal,
Liza
Hi everyone! So… Ear Mountain went away for a while. Or I fell off the Ear Mountain wagon? Suffice it to say that finding an apartment in Seattle takes way more time, strength, cash, and patience than you'd expect. But I'm hoping to be back on a month-or-so schedule now! The project was gone but not forgotten (by me). Thanks for reading, if you still are.
And also—a chance for audience participation—if anyone wants to take a look at the picture of my scrappy reverent vs. irreverent/rigor vs. pleasure quadrant system and place yourself on it and tell me about your results (or show me where you think you are in a picture or something), I would be excited, even though it's a goofy and arbitrary heuristic! Andrew and I came up with it while on day four or five of a cross-country road trip in 2015. If it doesn't make sense intrinsically, here's the couple-sentence instructions: do you look at the world with a predilection toward reverence or irreverence? (Map yourself on the horizontal axis.) Are you more deeply satisfied by rigor or pleasure (and yes I know that's a hard division!)? (Now place yourself on the vertical axis, and use your long-ago-won math skills to find the intersection. There you are.)