Discover more from Ear Mountain
an endless riband of foolscap
Dear Lizzy,
I've become a bit of an archeologist as I've prepared to write this letter. Instead of starting it, I've been digging through old files looking for a drawing I'm sure I have somewhere, a sketch of an elephant that I believe you made and which was to be the logo for AGONY. I didn't find the drawing, though I looked in many places, but I found many other things, including, in my journal from 2011, the origin story of AGONY:
The next day, on February 7th, I left the mansion with Lizzy and Aviv and drove northwest to meet up with Hannah in her hometown of Camden… We talked only of an interest in starting a magazine, which we decided to name AGONY ("because," Aviv says, "it sounds like 'magazine'"). Just after a bathroom stop we heard something dragging on the ground and when we stopped, we discovered that the muffler pipe had somehow severed and was dangling, facing forward.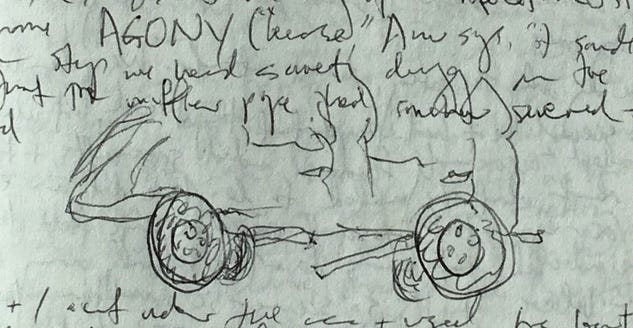 So Aviv and I went under the car and used his bootlaces to tie it up. It is very hard to tie knots from under a car, I learned…

Anyway, the good news was that the town we ended up in had an auto-repair place that fixed the muffler immediately, and it was a sweet little town. Canajoharie, home of the Beech-Nut factory—also, the name translates to "the pot that washes itself," Hannah informed us later in the day. We disregarded the advice of the woman who told us it was too far to walk into town and walked into town and went to a place called Elephant Bistro, where we got great soup and talked about AGONY, and were very happy, generally, even happy that the muffler had fallen apart.
I love thinking about that day for a lot of reasons. One is just that I was with you and Aviv, and was generally, in that moment, among friends—my journal entries are full of fond names. I was done with my bike trip and was visiting Tivoli and was so happy to see everyone. I'd been lonely.
Another reason I love this story is that the older I get, the more it seems to me that my life operates in patterns, or maybe it just circles around the same things. AGONY is, from my current vantage-point, a clear precursor to Big Big Wednesday. Even though AGONY never got off the ground, sad as it is to say, it's maybe the most fully-formed plan among my many other editorial/curatorial fits and starts. It's funny to realize how my preoccupations remain the same over years and years, even as they appear in varied forms. My friend Sam Michel (who is married to my UMass adviser, Noy—they own the house we were staying in in Montana) recently paraphrased to me, in reference to his own novels, a Tom Waits quote in which Waits says (in Sam's words) he feels like he's just a dog who keeps pissing on the same hydrant. And I just read an article about Sally Rooney, whose novels I really like, saying essentially the same thing: that while she hopes her writing has improved, she's been pursuing the same stories since she was 15. I guess you could look at all this as discouraging, but it doesn't seem that way to me. I like the throughlines, and I'm also just a bit stunned by the tenacity of our minds and hearts—there are things they won't give up chasing or puzzling over, no matter how much effort they've already put in.
The other thing I love about remembering our trip to Canajoharie—and I would not have remembered this had I not found the account of it in my journal—is how the anecdote ends. I can picture it—almost feel it again—because the feeling I wrote about was common to me back then: we were happy that the muffler had broken, because there we were in the Elephant Bistro, talking about AGONY, and we would never have been there otherwise. This, to me, is one of the primary attitudes I associate with being young: a kind of receptiveness to delight and an ability to find it even in the swerve of fate.
Of course there are certain privileges that help make that receptiveness possible. Have you read If Beale Street Could Talk? Or seen the recent Barry Jenkins adaptation? I did both this past month because the book was the inaugural selection in a book club started by our new friends Becca and Emelio. Both the book and the movie are great! Anyway, there's a part late in the movie where Tish, the narrator-protagonist, says that she and her partner Fonny (who have experienced in a brutal way the absolutely crushing force of racism and other systems that perpetuate inequality) are no longer young—though we see simultaneously as she says that that they are, at least in body, still hardly out of their childhoods. That line has stuck with me, I think at least partly because I do believe that feeling young can be a real asset, a positive stance towards the world that allows for creativity and excitement and productive defiances. I saw this in my Care Center students, as I suspect you likely did in your own teaching experiences, and I also saw the opposite—students, who like Tish says of herself and Fonny, no longer felt themselves to be young, even if they were only 15 or 16. There are so many forces in our lives and our culture, whether inevitable or infuriatingly avoidable, that weary us in a way that feels irrevocable. I remember that after Bill died I felt so old even as I also felt myself to be a child, and I remember hearing other people say that too. Perhaps that's because the sudden dread of death, like the relentlessness of oppression, strips away something in ourselves that can protect exuberance. Andrew's friend Greg (who is also my friend!) has a passage in a great short story of his called "Metanarrative Breakdown" that feels to me like it touches on the tension between the myriad quotidian grinding forces in life and the kind of tenderness that's probably in all of us from the time we're kids:
I brought in beer bottles and cans, glasses with crushed lime crescents, viscid residues, the tan remains of onetime ice; I wiped down tables and knocked out ashtrays; I did laundry—clothes, bedding, towels—watered plants, washed dishes, knocked grit from rugs and doormats, took out the trash. Because I am a person I did these things. This is what a person does. You make peace with the melancholy. You invite it in. You say goodbye—to friends, to lovers, to family who are dying. To stray moments of understanding or of being understood. You clean, you shop. You go for runs. Sometimes you cry. Sometimes you want to cry and can't. You are too old, too big, the wrong gender; you have pushed away tears too long. There is a child trembling inside you but that isn't enough. No one cares. No one has time to care. People's lives are shot through with suffering, indignity, and privation you can't imagine. You know this. We all do. And still to say "people" is to refuse to see the child.

Who sees the child?
And, though I hadn't intended to when I opened Greg's book to copy down that excerpt, I have to write out the next part, too, just because it's too good not to share:
In the days that follow, it is books and books alone that make me not want to die. At school there was a class called Poetry Will Save Your Life, which we laughed at a little for its pomposity—because so many other things come first, I suppose, because art is always being asked to apologize for its inutility and superfluity. But I think it's true that poetry will save your life, if for no more than that I found it to be true that week, that literature was the only sort of arrival I could count on, an intimacy that wouldn't desert me, that didn't ask too much or fray fatally in the endless conflict of our competing needs, that permitted—or maybe simply was—the passage of experience back through us, our way of ravaging the endless ravishment of life. Heaven too is merely a dream of arrival, which we know from our inability to imagine anything ever happening in heaven.

So stop shortchanging poetry. Stop shortchanging art. Seriously. We're sick of it. Art has nothing to apologize for.

It is sick of apologizing.
I just love that so much!
Maybe this is obvious, but it strikes me, as I copy these paragraphs out and think about how Greg has sequenced them, that art and youth occupy a similar position in our culture's thinking: they are both fetishized and also not a little scorned. In the past few years I've felt a kind of ambient pressure to "grow up," to commit to a place and a job and a person, to slowly begin to cease all my many impracticalities. I don't think commitments and a youthful stance are intrinsically at odds with one another (that's another cultural myth), but it does sometimes feel, as Greg's story suggests, like there's a flattening-out that happens in one's own mind as years accumulate, a belief in what "people" do and what life is inevitably like.
But I also think—I was saying this to Molly on the phone last night—I also think, or hope, but really I do believe—that youth and age are not a one-directional linear path, and that youthfulness can come and go throughout one's life. (My thinking about this was prompted by a very sad email from my dad, who has been suffering from hip problems, and who suggested the polar opposite—that I should try to enjoy the fleeting remainder of my youth before things get much worse, as they inevitably will. So who knows, maybe give it 30 years and I'll look back at this and laugh at my optimism. But I say YOUTH!!! AGONY!!! and defy that possibility at least for now.) Here's an example: As I looked for our AGONY logo, I grew frustrated that I couldn't find it, but I also found a whole bunch of other stuff that I couldn't help but open up and look at. I found the letter that you gave to me when I left Tivoli for Nashville, in an envelope addressed to me from "Lizza" (I had forgotten our shared name!) and filled with little leaves that have endured these years and spilled out pleasingly onto my office floor.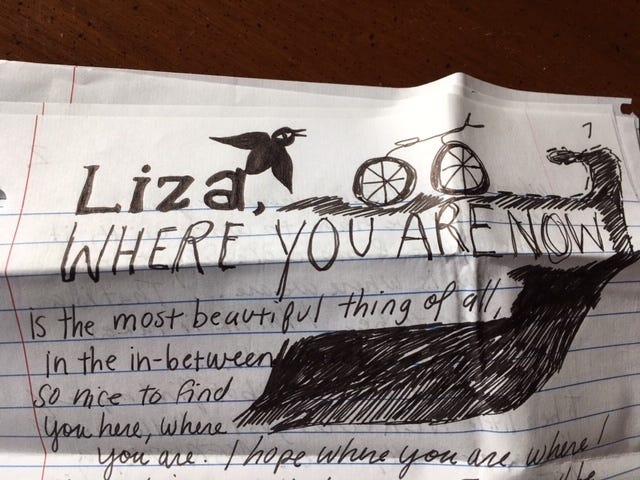 I found your notes about my college-era novel, a pressed flower between pages, and your drawings all over the manuscript.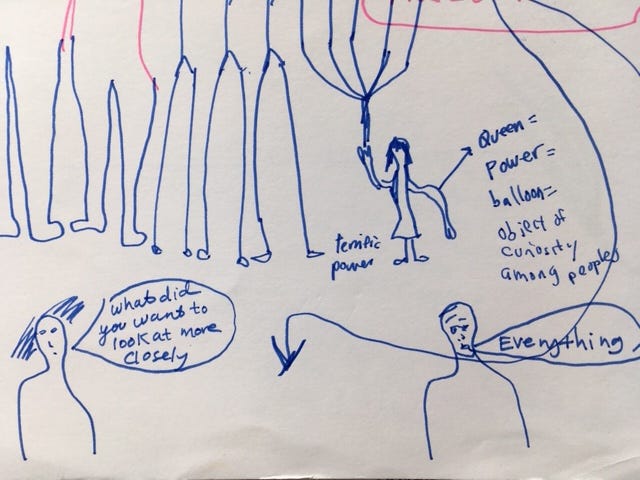 And I found things from other people, too—a note from Hannah that accompanied a box full of amazing California oranges (and a juicer—classic wonderful Hannah); a brown paper bag that contained the t-shirt Sam Steffen made for me, with Arno's help, as a birthday gift, with a handpainted rendition of the Tivoli watertower on it; a letter from Paul that compared his friends and dueling contractor bosses John Halstein and John Corcoran to Naphta and Settembrini in The Magic Mountain. As you well know, 2011, the year that all this stuff is from (the year of AGONY) was such a sad year, probably for me the saddest year of my life so far. And yet each of these artifacts reminded me of illumined moments within that gloom.
But also—and this is perhaps the more important thing, though I'm self-conscious even as I write it because I fear that both it and I are overly sentimental—the really amazing thing is that as I looked at all these documents and felt pangs of love for you and all the other people whose handwriting and sentences I've tucked away in folders and envelopes and drawers—in that moment of looking I was not only recalling youth, but experiencing it. My heart swelled, and stayed that way even after I grew shy with myself and put all my old things away. It may even be that as I'm getting older I'm getting more prone to this, more sensitive to some version of what Greg calls the "child trembling inside." For Anneka's 30th birthday, her old and dear friend Becca (of Becca and Emelio, who started the book club!) asked a bunch of people who know her for pictures of her with which to decorate a cake. As I looked on my computer and thought about all the places Anneka and I had been together (Bard, obviously, but also Guatemala, and our bike trip), and also saw so many other beloved faces on the screen while I scrolled, I just started crying. I cried because I was astonished by how much experience I've had, even as I sometimes find myself thinking I haven't had enough. I just felt very grateful for all that I've done, how much beauty and friendship and newness has littered my life.
One could definitely call some or all of what I'm writing about 'nostalgia,' and part of me—the old part!—is embarrassed to even be saying this stuff. But who sees the child? I want to believe that this isn't just sentimentality: I was young as I looked at those photos, and I remembered to be overwhelmed by what is easy to call either just the past or just ordinary (if, again privileged) living. That is all true—but the gratitude and shock that overwhelmed me is also immediate and extraordinary, and it is what steers or motors me towards making art. I guess in that way this heart-swelling is a kind of cousin to the impact of something awful. In Geoff Sanborn's semi-new book about Melville, he writes about "the problem with The World, as Melville thinks we all secretly know":
The problem is not just that each of us makes unpleasant discoveries—that life is brief, for instance, or that joy is evanescent, or that one's knowledge is partial, or that one's influence is slight, or that one's experiences are limited, or that one's intimacies are either hallucinatory or intermittent. Nor is it just that all such discoveries come as shocks, as a result of the fact that The World is, to all who for the first time eye it, so beautiful. It is, above all else, that they continue to come as shocks, because The World never stops being beautiful, never stops enticing us in ways that lead us to forgot whatever we have learned. Ahab doesn't go mad because the White Whale bites off his leg; he goes mad because he has to swim, in the aftermath of his dismemberment, "into the serene, exasperating sunlight, that smiled on, as if at a birth or a bridal."
This seems to me like an accurate representation of experience—but I think, as I've tried to suggest above, that it can operate the other way too. The "unpleasant discoveries" can become the baseline, at least for a time, and the beauty and enticement can be the "shocks," as they were for me as I looked through iPhoto for pictures of Anneka. It's a kind of alternation between the Ecclesiastes-variety "wisdom that is woe" and a kind of upwards-tending influence, what Geoff calls "the animating leaping of all things."
(Who are the specters of Ear Mountain? Thus far, Geoff and Bill. I guess that's not a surprise, and they are certainly most welcome specters to have. But it's funny to realize too, like I was saying at the beginning of this letter, how I can't help coming back to certain people, certain ideas and times.)
Now I'm fearing that the whole Geoff/Melville digression doesn't really make sense. But the reason I slipped it in here is because I think they are tag-team pointing at a kind of cycle or oscillation of experience that feels to me like the way that youth and agedness actually function. (And again I say that knowing that maybe I am still too young to know.) I want to return for a moment to If Beale Street Could Talk. What I keep thinking about re: that book, and the movie, too, is how Baldwin is able to show both the relentless wearying forces of the world and a love—between Tish and Fonny, but also within Tish's family—a love that incandesces both against and in spite of those eroding forces. Geoff also quotes Baldwin in his book, a passage from "Down At The Cross" about what Baldwin calls "sensuality": "To be sensual is to respect and rejoice in the force of life itself, and to be present in all that one does, from the effort of loving to the breaking of bread." Baldwin attributes white Americans' disconnection from this sensuality, their "inability to renew themselves at the fountain of their own lives," as one of the primary forces blocking productive dialogue or movement towards racial equity. And Geoff also quotes an interview Baldwin gave in which he describes love as "something active, something… like a fire, like the wind, something which can change you."
These definitions of sensuality, love, receptivity to change—they don't feel to me so different than what I have been calling youth, which of course doesn't have to correlate with any calendar or birthday. It's whatever it was that made you and Aviv and I decide to be happy about our misfortune with the muffler, excited about Canajoharie and the Elephant Bistro, rather than miserable or angry. And when I think of you, dear Lizzy, so often it's this receptiveness, enthusiasm, and curiosity—all themselves arguably forms of wisdom—that I can conjure up by proxy or contagion. So thank you for that gift, which you've given me as long as I've known you.
My archeological dig in preparation for this letter also unearthed a startling fact: this is not the first epistolary essay I have written towards you! In my "2011" computer file I found a draft of "On Mountains," which I must have begun in the spring, after I visited Tivoli and invented AGONY with you and Aviv. "On Mountains" tries to bring together my thinking about The Magic Mountain (which I had recently read on your recommendation—and which I have now spent so much time thinking and talking and writing about these past eight years—thank you, too, for that!), and about your own college novel, History of the White Mountains, and also about some excursions we had made into the Catskills across the river from Bard. As is usual, the older part of me cringes a little at the writing. But some of what embarrasses me is also a source of joy akin to the photographs and letters and notes I've mentioned. My writing feels in this old piece like it is striving so hard to be like others': like Melville's, like James Agee's, like Sam Steffen's, like your own. And I have to love that a little, how inescapable those admirations are.
Anyway, in the essay I talk for a moment about the phenomenon of walking in circles when you're lost, which is apparently a basic human tendency and which Hannah and I had recently tried to verify by closing our eyes in a field as we snowshoed. (We found it to be true, and I also fell over.) This happens to Hans Castorp in The Magic Mountain, and here is what I quoted from that passage when I wrote it out for you:
But that's what the books said would happen. You ran around in a circle, toiling onward, with the feeling in your heart of doing something useful, when in fact you were tracing a wide, foolish arc that led back on itself, just as the teasing year came full circle. And so you wandered around and never found your way home. Hans Castorp took a certain satisfaction in recognizing the standard phenomenon, though it frightened him too, and he slapped his thighs in rage and astonishment that something so universal had arrived right on schedule even in his own unique, individual situation.
I'm copying this out here at the end because it feels like I've been writing both in and about circles in this letter. Hans Castorp is understandably troubled by that recursiveness and its omnipresence, but there might be a kind of grace in it as well. When Mann writes that walking in circles is akin to how "the teasing year came full circle," he's hinting at something that is a huge part of his novel: the tension between how time can move in cycles versus in a progressive line. It does both in The Magic Mountain, and I think it does both in living, too. And if we're lucky, age can be that way as well. We're getting older—our friends have kids! have houses! are married or will be! our bodies ache in ways they never did before!—but with some fortune and some privilege that I would like in some way to help extend to everyone, we can nevertheless be astonished, vulnerable, and young sometimes, even into the teasing future. That's what I wish for, anyway, and maybe what I'm writing towards.
love,
Lizza
P.S. There are thus far always, with these Ear Mountain dispatches, a bunch of different paths I could go down at the start. But I'll mention one here that I didn't take because I've been thinking of you like crazy with the teachers strikes in LA. I could have so easily begun this with another image that has been in my mind, one of you and Paul and I sitting against the Bard library wall in the long-awaited spring sun, talking about how we wanted to start a school. We three have had some hard knocks in education on all sides since then. But if I'd start a school with anyone, it'd be with you.