Discover more from Ear Mountain
an endless riband of foolscap
Dear Rebecca S.,
I know we've talked a lot about the story of the soccer ball. But because this is, after all, a public letter, I'm going to bring it up again, if only for the possible edification of those who haven't ever heard it! This has become something of a legend for me, Paul, and Molly, who were your audience when you told it—and, as I get ready to write it down here, I've been tempted to ask each of them how they remember it. I'm a little worried I'll retell it wrong. But in the spirit of allowing for a bit of mess and play in these letters, and also in tribute to a book of essays I love, Proxies, whose author, Brian Blanchfield, committed to what he called "a total suppression of recourse to other authoritative sources" (every essay in his book carries the subtitle "Permitting Shame, Error, and Guilt, Myself the Single Source")—in that vein, and trying to be both quicker and bolder than usual here, I will, much as I love the "other authoritative sources" I might consult, avoid them for now. But feel free, Rebecca or Paul or Molly, to correct me if I totally mess this up!
How I remember the story, starting with the context in which I heard it: it's May 2017, and I've come west to be among friends, yourself included, on and around the anniversary of Bill's accident. Molly and I have driven up to Olympia from Portland and are staying with Paul for a few days, and you come down from Tacoma to have dinner with us. Sitting in Paul's living room, I tell an extremely long story about something—I have no memory of what, and it could have been absolutely anything, because I'm sure it was just me worrying over some situation, lamenting my inability to decide what to do or how to understand something, both decrying this waffling and practicing it right then and there. After I come to a halt you say, with great compassion, that you can relate, or empathize at least. Then you tell us that when you were in seventh grade and on a soccer team, you began to have trouble (maybe only in your head—I can't remember if it manifested at all in games, or if you even told us that) because, during a moment of play, your mind would race ahead to what was going to happen after you acted, if you acted at all. If you kicked the ball, would your teammate receive your pass? Or would the other team intercept it? Would it be better to dribble (do people dribble in soccer?) or take a shot? What action, of all the options with all their attendant and myriad outcomes, would be best for your team? You felt paralyzed by this expansive branching-out of possible futures. "Then," you said, "I finally realized: you've just got to kick the soccer ball. And after that things got a lot easier."
Molly and Paul and I were immediately obsessed with this anecdote, in large part because it feels representative of something that the three of us—and others too, I think—really love about you. In a group of (extremely smart, successful, and wonderful) overthinkers, you've always stood out to me as someone who can sincerely engage in the long, speculative vacillations that are quite frequent among our Bard friends and yet live out a certain unhesitating and unassuming confidence in your own way through the world. I don't know if you know how respected and treasured you are for that, as well as for your many other wonderful qualities—I hope you do know! I often struggle to know just how to articulate this way of yours to others, in describing you to friends who don't know you, for instance—sometimes it gets flattened into something like "Rebecca is the friend who, after we graduated, jumped right into putting a life together in Tacoma, while the rest of us floundered around a bit" or "Rebecca's a really steady presence." These things are true, but there is also something more to it. Again I hunt around for words without really feeling like I find the right ones—but maybe it's a kind of wisdom that I see in you. I admire how long you've been able to just go for it and kick the soccer ball, but I also admire your understanding of that as a choice, something you have to opt into, and which required and still requires intelligence and sensitivity and courage on your part. And, too, I admire that you could articulate all this in middle school, and that you summed it up so clearly to us when you told the story.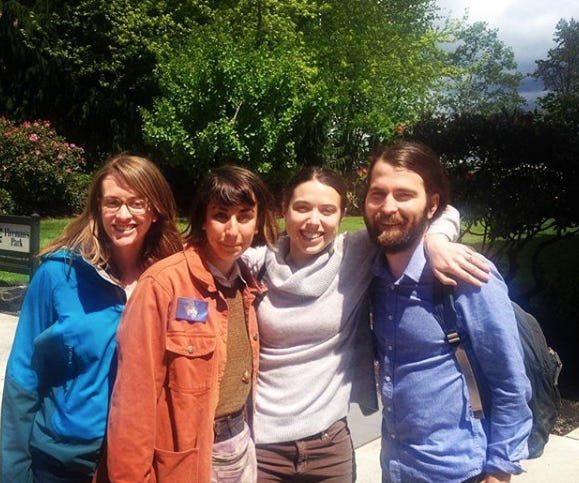 The other reason your soccer ball epiphany has stuck around is because there is a deep, deep truth to it, I think. At age 30 I may still not have gotten around to the consistency you achieved re: this breakthrough at 13, but I think I'm beginning, at least, to be more aware of it from day to day. We talked about this when I came down and went for a walk with you and baby Sol a few weeks back, but in Montana I become very conscious, not for the first time but more consistently than ever before, of how the absolute worst part of "the writing process" (which includes all the time in which I'm not writing but am thinking about it) is for me the moment when I'm just about to write but haven't yet started. I'd get up in the morning in this gorgeous house, walk Hans if it was my turn to do so, make coffee and read a little—and then, like clockwork, just before I'd plan to start working, my mind would do exactly what you described your adolescent mind doing mid-soccer game. What if I didn't get anything done that day? What if my whole project was a waste and needed to be rethought before I spent any more time on it? Was I too tired to write at all—should I just keep reading? Maybe this wasn't a good day to try it… maybe I should take a day off. But no! I'd be disappointed in myself if I didn't work. I had no reason not to. But on the other hand… I'd find myself sitting on the couch or standing at the counter, staying physically still but mentally pacing, and it was a wringing-out of everything: energy, enthusiasm, any confidence I might have had at the start.
Because I actually had plenty of time to write in Montana, I also had time to notice that this happened almost every day—and, as I mentioned, I also had little excuse, with the vast fields of the morning, afternoon, and evening spread out before me, not to just go for it and try even if I didn't get anything done. I think I've always hoped or expected that this particular agony (AGONY!) of writing would go away as I got older and more "seasoned." But what I'm beginning to suspect is that it never will go away, and that the secret really is to just resolve to momentarily overcome anxiousness and inertia and kick the soccer ball, because at least after you kick it you stop wondering whether or not you're going to. The thing that made it easier for me to work well in Montana, finally, was just to remember this: that the sooner I sat down and started working, the less painful the day would be, no matter what I got done. Writing is often hard and frustrating, but I don't think the work itself is ever actually as bad as trying to convince myself to do it. And the same is true of innumerable everyday things that require some effort: walking Hans, exercising, doing a chore. Often these things are actually great once I begin them. I'm learning—or trying to remember—that the less time I take to push through my own indecision or resistance, the happier I am. Just kick the ball!
Did you ever hear Bill, or any of us, say, "The moment of decision is madness"? I think that was a joke among several of us senior year at Bard, especially in the spring, which is the time that, in my mind at least, you and I really became friends. I'm pretty sure more people than just Bill said that phrase, but whether because he especially loved it and used it or because of the special prominence of memories that involve him, I hear it in his voice, and see us walking in a field behind the gym under those gray skies that precede real spring in that part of the country. I often mentally say "The moment of decision is madness" to myself as a way to make myself laugh or lighten up when I'm feeling agitated about trying to make a choice (like when I was wandering around and around my house the other day trying to decide whether it made more sense to bike or drive to the grocery store, for instance!). It's a good reminder to avoid, as I was saying before, staying in that moment of madness for too long!
Sometime after Bill died, as one of many grief-motivated forays into trying to understand some detail of him or of our friendship better, I went and looked to see where that phrase had come from. I knew it was attributed to Kierkegaard, and at first I just wanted to know where it was in Kierkegaard's work. That spring that I remember Bill saying it was a time when I was reading tons of Kierkegaard—I was taking a class that focused solely on his work, a mediocre course with a great reading list. I didn't remember coming across this phrase, though, despite the fact that Kierkegaard is always writing about moments of decision, in large part because he is also always writing about faith, which he famously characterizes as a "leap" and which seems to be his own equivalent of just kicking the soccer ball. Here's one of many examples, from Either/Or, whose title, even, demonstrates Kierkegaard's investment in thinking about choices. And this passage is perfect for this instance because it's structured as a letter (epistolary prose!) from one invented character to another. The letter's author, describing "life's either/or" to his friend, says:
Think of the captain on his ship at the instant when it has to come about. He will perhaps be able to say, "I can either do this or that"; but in case he is not a pretty poor navigator, he will be aware at the same time that the ship is all the while making its usual headway, and that therefore it is only an instant when it is indifferent whether he does this or that. So it is with a man.
The narrator goes on to further explain, and to correct what he believes to be a flawed understanding in his friend:
You will perceive also in what I have just been saying how essentially my view of choice differs from yours (if you can properly be said to have any view), for yours differs precisely in the fact that it prevents you from choosing. For me the instant of choice is very serious, not so much on account of the rigorous cogitation involved in weighing the alternatives, not on account of the multiplicity of thoughts which attach themselves to every link in the chain, but rather because there is danger afoot, danger that in the next instant it may not be equally in my power to choose, that something already has been lived which must be lived over again. For to think that for an instant one can keep one's personality a blank, or that strictly speaking one can break off and bring to a halt the course of the personal life, is a delusion… Therefore it is important to choose and to choose in time. You, on the contrary, have another method… Yea, if to deliberate were the proper task for a human life, you would be pretty close to perfection.
It almost feels, save for the stern and somewhat scornful tone (which is not at all your way), like this could be the impossible: a letter from your middle-school self to present-day and always indecisive me!
I also think the quote above does a good job arguing for "taking the leap" while also acknowledging why, for me and presumably for others, the moment of decision does feel like madness. To return to that quote for a moment: for many years after a couple cursory searches for its source, I assumed it was just hard to find in the wide field of all Kierkegaard's work. Then in 2017, Paul sent me and Molly an email about a project Nica Horvitz (did you know her at Bard?) was starting, a publication called DEPOT, whose first issue was organized around the theme of DECISION! In the material on DEPOT's website (which has changed since then, so, again like Brian Blanchfield, I'm going on memory here), it mentioned this very aphorism—"The moment of decision is madness"—and, I believe, explained that it appeared in Jacques Derrida's writing about Kierkegaard with no specific reference, and that there had been speculation that Derrida had made it up for his own purposes. I was actually quite excited by this theory! But, for better or for worse, I've now done a deeper dive in writing this to you, and have just read part of an academic paper by Geoffrey Bennington, a literature professor at Emory, who argues that something quite similar to this sentence does appear in Kierkegaard's Philosophical Fragments—but that, crucially, Kierkegaard's meaning is a little different, and translates to something more like "the moment of decision is folly." I know I'm getting into the weeds here, but bear with me. Bennington feels that Derrida took this slight but significant misreading with him into all sorts of contexts—the phrase "The moment of decision is madness" appears many times in Derrida's writing. Bennington has a quite complicated explanation of why Derrida alters Kierkegaard's meaning, but I'll say for myself that the reason that I've taken this mysterious quote and have run with it is simply because it really does make sense for me, emotionally speaking. I do feel crazy when I have to make decisions! And maybe Derrida did too. Here's what he writes about Kierkegaard's "knight of faith" in his examination of Fear and Trembling in The Gift of Death:
He decides, but his absolute decision is neither guided nor controlled by knowledge. Such, in fact, is the paradoxical condition of every decision; it cannot be deduced from a form of knowledge of which it would simply be the effect, conclusion, or explicitation…. [A] decision is, in the end, always secret.
In other words—your metaphor—since you can't ever know what will happen when you kick the soccer ball, you just have to kick it! This is what can make decisions feel so maddening, but it's also where the grace of being proactive but also open, which I so often see in you, comes in. You don't know what will happen, and you can't; you choose anyway; and the next instant arrives and you choose again.
Of course, you and Sean have practiced this in a huge way this past year! I'm thinking about the Joshua Rothman article I wrote about last week in my letter to Matt, and in particular about Agnes Callard, the philosopher Rothman likes who writes about aspiration, which is perhaps not so different from a kind of faith. Callard believes, Rothman says, that one can't choose to be a parent based on any certain outcome, so you have to choose for other reasons. He summarizes Callard's beliefs on that front like this:
Parents look forward to a loving relationship with a specific person. And yet that person doesn't pop into existence fully formed; he emerges, in all his specificity, over many years. For this reason it makes little sense to be an "ambitious parent"—someone who plans, in advance, what he will love about his child. It's better to "enter parenthood for the most inchoate of reasons," Callard concludes, since that "puts our children in a position to fill out what parenthood means for us"; in turn, parental love must "be capable of molding itself to the personality that is, itself, coming to take a determinate shape."
I'm not sure if I will ever have a kid or not myself, but what I find beautiful about this idea, and what I see manifested when I spend time with you and Sean and Sol, is the way in which the ongoing choices of parenting take "the moment of decision is madness" paradigm and subvert it. All moments, in a sense, are suffused with choosing—that's what Kierkegaard's saying in his ship captain analogy—and the madness is also the joy, because it is the ongoing present. We're always kicking the soccer ball, in other words, whether in big ways (deciding to have a baby) or ostensibly smaller ways (responding to what is new in baby Sol's behavior, say—to his grumpier cry as you described it the other day at the spa, for example). So you—I!—might as well try not to be driven crazy by constant change and my own nonstop figurative leaps of faith. I certainly still often am driven crazy by it all. But honestly things like the soccer ball story really help. I hear it in my head sometimes and remember its wisdom, and also remember you, your friendship and (again that insufficient word) steadiness, which is aspirational and inspiring for me, as well as dearly loved.
Let's take another walk soon—and also, see you in New York?!?
love,
Liza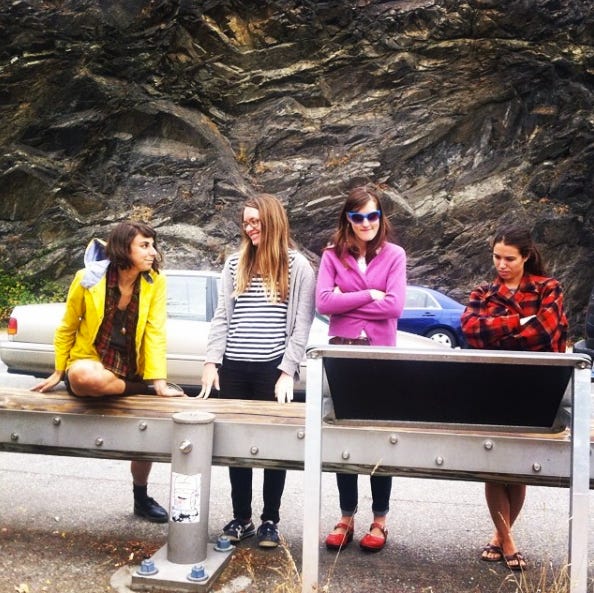 I think maybe Paul took this second picture? Thank you Paul if so! And thank you to whoever took it if I'm wrong. Note that Anneka and Rebecca are both extremely engrossed in the interpretive signage… scholars!